2023 – Editor's Choice: Top Picks for the 25 Best MBA Programs in Health Management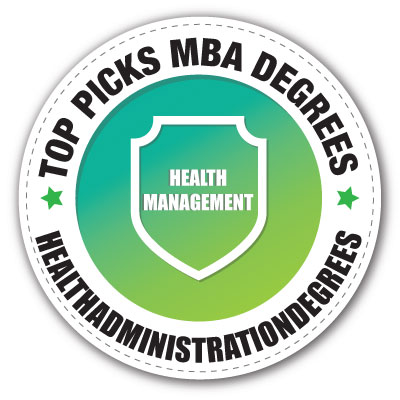 By the time you get to the point where you're considering earning a master's degree in health services management, you already have a clear picture of what's going on in the healthcare industry. You've seen it from the inside, a $3.8 trillion industry that represents almost 18 percent of American GDP, and that, as the Brookings Institute recently reported, employs a full 11 percent of the American workforce.
That's an industry that needs a lot of business-minded talent in the upper ranks of management. And the fact that you're looking at an MBA over an MHA means that's not lost on you.
Healthcare employers are desperate for managerial talent, and with the pressure on to make a strong rebound after the fiscally challenging year the global pandemic delivered, more than ever hiring committees are looking for that talent to be coming out of top business schools.
<!- mfunc feat_school ->
When you're serious about upgrading your education for a healthcare management position, and you understand what all your options are, for the most ambitious in the business, going for an MBA starts to stand out as the obvious choice. Make no mistake, you need to know the ins and outs of healthcare and how to relate to the nurses and MDs in the organization down on the clinic floor providing direct patient care, but you also need some serious business chops on top of that.
This is a job that takes a blend of skills to be able to manage high-tech teams and break down million dollar budgets, all while having the strategic foresight it takes to stay a step ahead. More and More, this is a job that takes an MBA in Healthcare Management.
An MBA may not be the only kind of master's degree that will qualify you for this kind of work, but in more ways than one, it is one of the most highly sought after. According to the National Center for Education Statistics, more degrees are conferred in business than in any other field. As valued as every one of those MBAs might be, only a tiny fraction graduate from accredited programs offering a focus in healthcare administration. It's an elite group, passing through the halls of some elite institutions. And you better believe they're going on to do some big things in their careers.
Even though there are more than a thousand MBA programs operating in the United States as of 2021, less than 150 are fully-accredited and offer a concentration in healthcare administration. All of those programs are winners, but not all can claim to be the best. But the 25 that can are located right here on this list.
We Start with a Pool of Fully-Accredited, Industry-Leading MBAs
We will get into the details of the criteria we used for selecting those programs in a minute, but you'll be happy to hear that our pool of candidates was limited to only those MBAs that have earned full accreditation.
Only MBAs that have been audited and approved by one of these three agencies were in the running:
Each of those accreditors, in turn, have been evaluated and approved by the Department of Education and the Council for Higher Education Accreditation (CHEA). They look intensively at all the major and minor details that contribute to making business programs worthy of a second look – from instructor qualifications and hiring practices to administrative processes and curriculum standards to industry partnerships to grading and appeals processes.
It can be a multi-year process to get accredited. And it doesn't end there. Afterward, each school continues to go through occasional evaluations to make sure they maintain standards. Accreditors even conduct on-site visits to make sure they are getting a true perspective on the student experience.
Narrowing it Down to the 25 Finest MBA Programs In Healthcare Administration
We made our own intensive investigation of all those accredited schools to come up with only the very best. We looked at both material supplied by the schools as well as information from independent sources like U.S. News & World Report, Kiplinger, and the accreditors themselves. In our big-picture review, there were a number of factors that stood out among the very best programs.
Instructor Expertise and Experience is Key to Preparing Capable Graduates
If instructors weren't an important part of the school experience, everyone would just read the textbooks and take tests. Instead, the reality is that you learn best when someone explains subjects to you the right way. Not everyone learns in the same way. The art of instruction is in finding the way to reach individual students in a way the topic makes sense to them.
That takes a rare combination of talents. And that's something we look for, first and foremost, at each of these schools. Professors need to have not only a wealth of industry experience in healthcare, but also the teaching chops to get their knowledge across. We wanted to see schools that picked out instructors with broad publication backgrounds, who command attention throughout the industry. They have to have not only relevant real-world experience, but also the academic and theoretical background to blend current practice with the foresight to appreciate tomorrow's challenges.
Top Schools Earn a Reputation for Being Among the Best
When a program regularly ends up on third-party lists from publications like Forbes and U.S. News & World Report, then we already know we are on the right track. MBA programs that have a buzz in the industry make waves outside it. Graduates go on to take on executive positions in major healthcare companies. They get their names in industry publications and wind up on advisory committees. It's not a mystery why some schools have more graduates getting more recognition than others—it's a sign of quality. So when we found programs with a lot of splash, that's a big reason to move them up the list.
Top Research Programs Get You Up Close to Cutting-Edge Ideas and Strategies
Although it's not the same as medical research, there is still plenty of investigation and experimentation in management circles. New techniques and innovations change the way the healthcare industry is run. And the executives that master those techniques first are the ones who command top dollar.
You have a better chance of being one of that elite few if you attend college at a school where the cutting-edge is slicing into the real issues healthcare managers deal with every day. We picked out schools that have a deep bench when it comes to research faculty, where publication in leading academic journals is standard.
Industry Connections Offer Real World Training
Healthcare may be big business, but it's also an intensely personal and important human service for millions of Americans. You don't get that angle sitting in a classroom. That's why it was important to us to find top schools that offer real-world industry connections for students. Whether that's a partnership with a leading teaching hospital or internship opportunities at research labs or medical supply organizations, you'll find all the options here.
Beyond just getting you valuable real world experience, those connections make landing jobs easier after graduation. You'll meet the right people and get to network with accomplished fellow students. Whether it leads to a job right after graduation or some key connection years down the road, attending these schools sets you up for life-changing opportunities.
Unique Perspectives Create Graduates with Something Special to Offer
Finally, we look for opportunities that are a little bit off the map. The stuff you wouldn't ever think to ask about, but turns out to be the key piece of your education. Whether it's a unique internship opportunity or an overseas semester to let you see how healthcare administration is done in Europe, we looked for schools that offer you something extraordinary.
That includes shots at unique fields of study that you might not find at other schools. Or, in some cases, you can find dual-degree tracks that offer you expertise in multiple fields.
Our Top Picks for the 25 Best MBA Programs in Health Services Administration for 2023
Not every school here has the same experiences on offer, but that's exactly what we want. You'll find the selections here are diverse in the kinds of experiences they offer, but consistent in providing exceptional preparation for a career in health administration.